Escorting Fairy
Players can complete the task in any time of a day. You need to claim the task from the Escort Fairy. But during 19:00pm-19:30pm, players can earn 100% more rewards.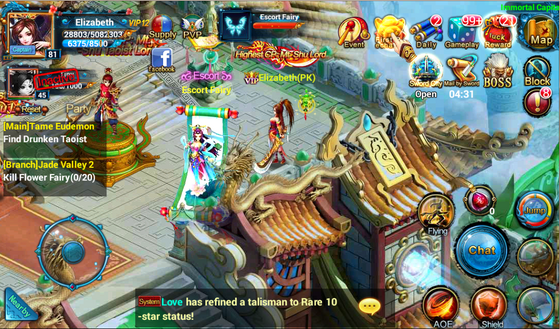 1.       There're fairies of 5 ranks: White, Green, Blue, Purple and Orange. You will receive more EXP by escorting a higher-quality fairy. The White is of the lowest EXP and the Orange is of the highest.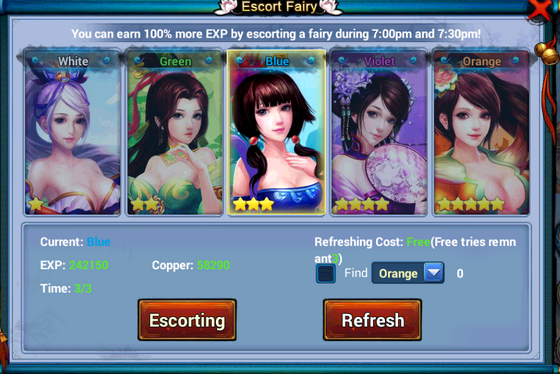 2.       Every day you have 3 times to refresh the quality of fairies freely. After that you can use Escort Token to refresh fairies.
3.       When you claim the task, you'll be in the escorting status and unable to ride mount. Your moving speed will be reduced to 80% of the original in the escorting status.
4.       By plundering a player who is escorting a fairy, you will loot 50% of the player's Copper.
5.       In the escorting status if you are killed by player whose level gap between you is 5 or less than 5, the plunder will be 100% successful and you'll lose all the EXP and copper; if you're killed by player whose level gap between you is more than 5, the plunder will fail.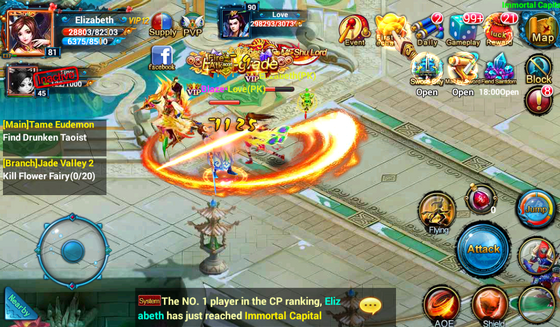 6.       Each player has 3 escorting times and 10 plunder times. If your plunder times are all used up and when you kill other escorting players you won't win any rewards.
7.       After claiming the task you need to finish it within 15 minutes, or you'll lose half of the copper and EXP.
8.       If you are in a guild, you can ask guild mates to help you while somebody tries to plunder you!
Community content is available under
CC-BY-SA
unless otherwise noted.